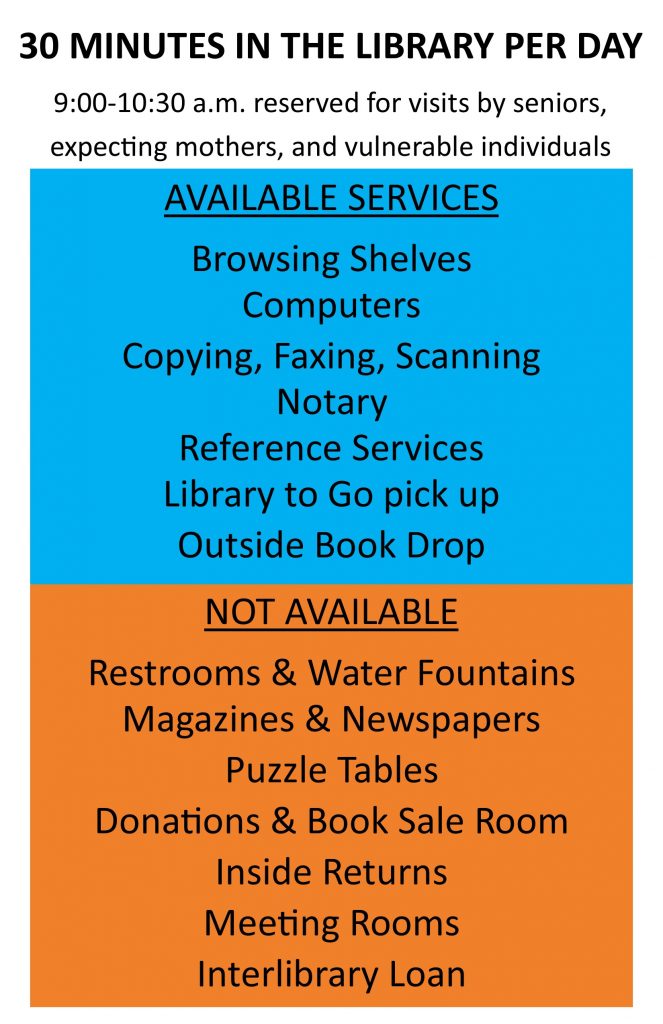 Guidelines for Using the Abilene Public Library
1) Face coverings are required for anyone over 3 years old. Please help us protect the library staff and our community.  We have masks available for you, if you forgot yours.
2) Patrons will be limited to 30 minute visits including computer use time. Only 2 computers will be available for use at one time.
3) A maximum of 10 people will be allowed in the Adult and Teen
areas of the library  (floors 1&3) and 5 people (or 2 families) will be allowed in the Youth Department (lower level) at one time. The 2nd floor remains closed except for official meetings.
4) All materials that are touched by patrons while browsing need to be put in designated bins for sanitation.
5) Returns will be accepted in the outside book drop only and will be
quarantined for 72 hours.
6) We are NOT taking donations until further notice.
7) Public Restrooms and drinking fountains will NOT be open at this time.
Library to Go Pick Up Services will continue
If you would rather not come in, please call or message us with your requests, and we'll have them ready for you at the door. 
The time period between 9:00 a.m. and 10:30 a.m. Monday-Friday is reserved for high-risk patrons.
Please Social Distance.  Hand sanitizer will be readily available.
Services such as copying and faxing may take longer to allow for staff safety measures.
If you have a cough, fever, shortness of breath, or any other possible COVID-19 symptoms please  do not enter the library