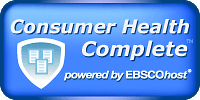 Consumer Health Complete: Browsable medical database including drug information, topic fact sheets, medical dictionaries, and ebooks.
For more Medical Databases try:
MEDLINE: Information on medicine, nursing, dentistry, veterinary medicine, the health care system, and more. Created by the National Library of Medicine.
ProQuest Nursing & Allied Health: Research nursing, allied health, alternative & complementary medicine topics.
Memorial Health Systems: Local Healthcare for Abilene and Dickinson County including Hospital Services, Doctors, Nursing Homes, Rehabilitation, and Hospice.
Central Kansas Mental Health Center: Local Mental Health Resources and information for Mental Healthcare in Abilene and Dickinson County.